5HP VFD with single phase input, low cost drives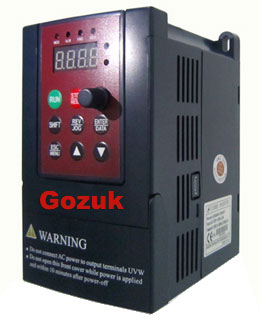 VFD Capacity
: 5HP (4 kW)
Input
: 50/60Hz 1 phase 220V, 230V, 240V AC
Output voltage
: 3 phase 0 - input voltage (maximum)
Output frequency
: 0 - 400 Hertz
Rated current
: 17 amps
VFD Size
: 230 * 155 * 164 mm (H x W x D)
Weight
: 4kgs (Packing weight)
Control mode
: open loop V/F control
Overload capacity
: 150% for 1 minute,200% for 0.5 second;
Communication
: RS485 (optional), standard ModBus protocol
Enclosure
: IP20 (
What is VFD ip number means?
)
Price?
Refer to the
price list
and get a discount.
Lots of applications can save money by using variable frequency drive (even if a small one, like 5hp) to better control the speed of the AC motor to the driven machinery. This can result in significant reduce total cost in addition to improved process control, lower maintenance, longer system life, very soft start, improved flexibility, integration into automation systems, lower audible noise and increased performance, then save your money.
Common applications that
benefit from a variable frequency drive
include most fans and pumps, turbo compressors and material handling amongst others.
The relatively small losses in the VFD are easily compensated for by the overall improvement of the application efficiency.
To recoup the capital cost of a typical 5HP variable frequency drive only a modest energy saving is required. Even with a 10% efficiency gain, the capital cost would be saved in only 1000 operating hours. Efficiency gains of between 20% and 70% are often possible by using a 5 HP VFD in fan and pump applications.
Selection of VFDs
should be considered as only a part of the overall gains to be made. It is important to consider efficiency of the overall system besides the cheap price, from the input of electrical energy to the useful output (air pressure, water flow rate etc). Maximizing the reduction in operating costs can only be achieved through careful system design to achieve maximum efficiency gains, e.g.
Motor sizes can be reduced if VFD is more efficient

Optimization of the driven equipment
Optimization of power transmission train (gearbox, belts and pulleys)

Variable frequency drive can eliminate the need for a gearbox, increasing system efficiency
Variable frequency drive operate at almost unity power factor - reducing reactive power charges and increasing overall efficiency
Featured Articles
Non-Enclosure Variable Frequency Drive ...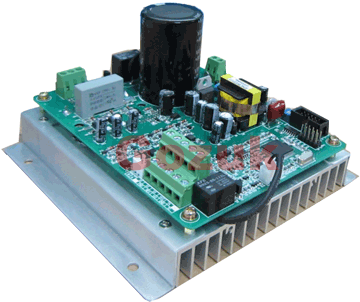 No enclosure (cover), reducing installation space and cost effective. Widely used in All-In-One control cabinet. Keep the same ...

VFD manufacturers

buy@vfds.org

tech@vfds.org