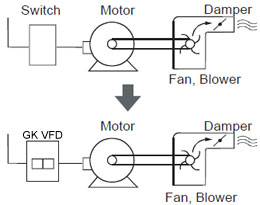 Variable Frequency Drive (VFD) can be used in lots of fields. Variable frequency drives are widely used to control the speed of AC motors, like conveyor systems, blower speeds, pump speeds, machine tool speeds, & other applications that require variable speed with variable torque. In some applications such as speed control for a conveyor, the variable frequency drive is installed with a remote potentiometer that personnel can adjust manually to set the speed for the conveyor. In this type of application, the personnel who use the conveyor can manually set the motor speed with the minimum & maximum frequency that is programmed into the variable frequency drive parameters. Following tables will guide you the general purpose VFD and vector VFD applications.
Reduction in maintenance costs. Variable speed drives are inherently soft start, increasing motor and linkage life.
Pumps can be alternated more frequently, say every 24 hours, increasing the life of the equipment.
On pump failure, the standby pump is automatically started with alarm indication.
Start-Stop and reset of pumps can be done by the variable speed drives.
Optional manual selector switch overrides the automatic pump alternation sequence.
In applications, where increased flow is required , on a temporary basis, the lead or primary pump may remain at maximum flow with the second "back up" pump enabled and varied to meet the system demand.
Nearly 40% of the total energy used by indoor swimming pools is consumed by the filtration and circulation pumps which are responsible for maintaining the cleanliness of the pool water.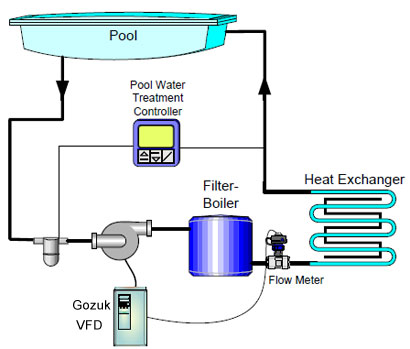 These pumps "recycle" the pool water by drawing it through a series of filters and chemical injection pools before returning it to the swimming pool. Filtration rates (set by government authorities) are intended to ensure proper standards of hygiene.
VFD can be added to pressure booster pumps as an alternative to using pressure control valves. This saves the energy and eliminates its cost and maintenance. The vfd savings can amount to 20% or more, simply due to the safety factor used during the design of the system. If the suction pressure of the pump varies, the over-sizing of the pump required to handle the lowest suction pressure does not penalize the installation, when the suction pressure increases.


You can get an idea of a pump's performance usually from pressure recording equipment if equipped with a steep curve pump. If not many larger electrical starters may be equipped with amp and volt meter recorders amps=flow. The benefits of VFD control on friction dominated systems are well documented as we as methods to record load indicating transducers. There is a dearth of information about actual operating points in the field.



Creating closer links between these two areas of a business is an important objective. Tools like online variable frequency drive payback calculators will go some way towards achieving this; however, by themselves they won't produce a result – there also has to be real buy-in from the business itself.
Reduced downtime because gas turbines require frequent maintenance while VFDs and motors require very little maintenance. This enables more production, lower maintenance expense, and improved productivity.
Accurate speed control and process control allowing the most optimum plant flow balance to be obtained.
Lower energy costs because the VFD and motor has a higher efficiency than most gas turbines, especially at part load.
Zero CO2 and NOX emissions at the operating station and greatly reduced noise. This feature often makes electric prime movers the only selection in applications near urban regions or regions with existing air quality problems.
Independent of ambient temperature. Gas turbines generate less power when the inlet air temperature rises since the air density is reduced and less oxygen reaches the combustion chambers. VFDs and motors are not affected by temperature.
Lower capital equipment, spare parts and maintenance cost.
Lead times of 9 - 12 months, depending on the motor design. Compared to a mechanical prime mover which can have 18 month lead time, this shorter lead time allows for a quicker production revenue gain.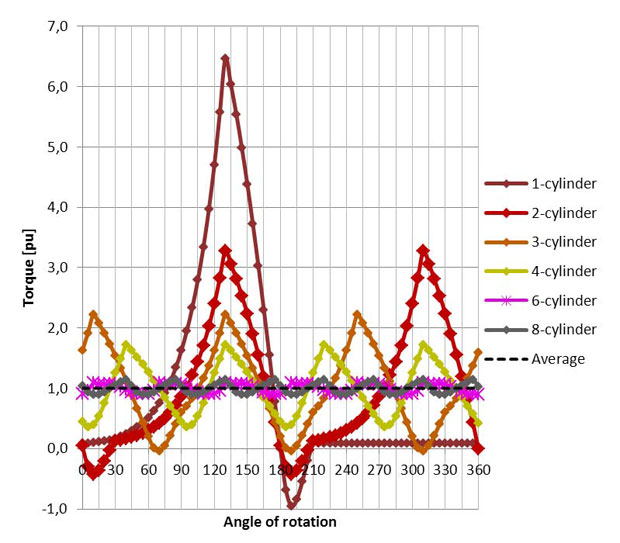 Experiences made in over 10,000 VFD installations in refrigeration and A/C projects have led to a list of priorities for the correct selection of a suitable variable frequency drive.


The most important choice to be made in choosing the VFDs is the decision to select a non-slip, solid-state VFD. Any such VFD can offer dramatic energy savings by efficiently matching the energy consumed to the hydraulic load requirements at any given moment.


A pump/control-valve combination provides smooth flow even at very small valve openings, although in some cases protection against low flow is required. However, with VFD-driven pumping, flow isn't always smooth at reduced speeds due to either the pump or the VFD.
For a centrifugal pump with a variable frequency drive it's usually preferable to use torque to control flow. This also seems consistent with the future directions for variable frequency drive technology.
Temperature Control Loop - The chilled water valve is modulated to achieve the desired off-coil temperature.
Pressure Control Loop - The VFD is modulated to achieve the desired duct static pressure
Variable Air Volume Box Control Loop - The Variable Air Volume box damper is modulated to deliver the desired airflow as established by the temperature control loop.
Featured Articles
Variable frequency drive application ...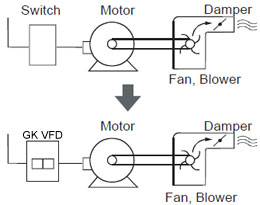 Variable Frequency Drive (VFD) can be used in lots of fields. Variable frequency drives are widely used to control the speed of ...

VFD manufacturers

buy@vfds.org

tech@vfds.org