It is therefore advisable to contact the designer or the supplier as the relative humidity in case of Cooling Towers is the controlling parameter, which in the case is 50%. So, if structural stability calculation from the supplier allows you, you may go for the option you have thought.



One option is to use a temperature sensor and a transmitter for temperature reading and use it directly for control in a variable frequency drive (VFD). Another option is to hook it up to a control system like DCS. You can use PID controller in DCS for control. The output from DCS can be given to the VFD.



If this is an existing system and you're having problems, there's a high probably that the static head hasn't been properly addressed during design. You may have unstable duty conditions and the pumps may operate anywhere from too far left of curve to too far right of curve. If the pipeline undulates and the HGL is close to pipe level, air may enter the pipeline at air release valves and create increased static head due to air pockets in the pipework.


The type of pump to be selected cannot be properly be decided without the above info - it is however common to use surface pumps such as double suctions.


Also you need review, if the brake of motors can inject energy to power network in this case you need brake resistor or using VFD with reinject the power to network.

Earlier they were using for 220 KW soft starter for driving FD fan. On 25th Feb 2013, they have connected 220 KW VFD to achieve power saving. The power plant is paralleled with state XYZ Electric Board) grid. & they are exporting/Importing power to/from State grid.


Your application is a very good candidate for using VFD. It can save good amount of power and in your case the payback period can be as low as 1 year or so depending upon your reduced cooling water requirement. The more you run the motor, at lower speed, more the saving. As per affinity law the power required by a motor running at 1/2 speed is only 1/8 of original power. For example a 7.5 KW motor consumes only approx 1 kw when running at half speed. Of course the pump out put in volumetric terms also will reduce correspondingly.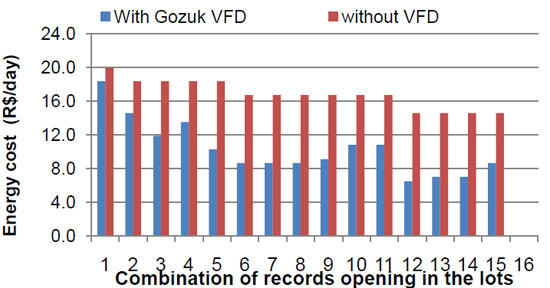 After evaluation of the irrigation pumping system in the laboratory, there was a reduction in the cost of electricity for pumping in irrigated districts applying different levels of automation when using the VFD.
The use of the VFD demonstrated to be an effective tool in reducing the cost of electricity in irrigation pumping system for irrigated districts, in the case study, its use represented 40% of energy savings by VFDs.

VFD manufacturers

buy@vfds.org

tech@vfds.org