Why do some VFDs need reactors?
There are two types of reactors used with VFDs: load reactors (or DC bus chokes) and AC
line reactors
.
The goals of these reactors are to reduce the harmonic content of the input current (improve distortion
power factor
) and to reduce the conducted EMC noise on the supply.
Some
VFDs
have either of these reactors built in as standard, and others don't . The variable frequency drives that don't include the reactors are smaller and cheaper, but may require them to be mounted separately in order to comply with CE or similar EMI/EMC regulations.
Look at the input current waveform through an oscilloscope (see image below). You will notice that it's made up of short high-amplitude current pulses on the crest of the waveform (left). This is due to the capacitive-input filter. The addition of the reactor will stretch these pulses (right).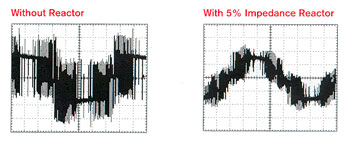 VFD manufacturers

buy@vfds.org

tech@vfds.org