Variable frequency drive (220V/230V/240V/380V/400V/415V)
More and more
VFD applications
increasingly demanding requirements: fast, but, gentle acceleration, gentle, but rapid and precise braking as well as the ability to accommodate even unpredictable loads with ease. In order to satisfy these primary requirements, but also to meet many other criteria reliably, not only the motors, but also the VFDs have to offer special characteristics.
The Gozuk VFD range meets these demands. With components for VFD outputs from 1.5 to 400 kW and line voltages from 220V, 230V, 240V (
single phase
), 380V, 400V 415V (three phase), the
variable frequency drive feature decisive characteristics
such as: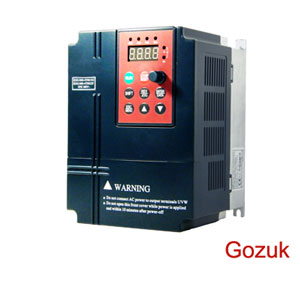 individual travel, lifting, turning and slewing motions by infinitely variable speed control independent of the given load;
variable torques at constant speed or variable speeds at constant torque;
VFD acceleration and braking characteristics exactly tailored to meet the needs of the loads to be transported;
particularly reliable and precise braking characteristics by braking choppers;
efficient VFD specification, since the rated output may be briefly exceeded when starting against heavy loads;
precise speed setting by means of switchable inputs;
multi-motor operation with single variable frequency drive;
the VFD can be adapted to the specific application by freely programmable inputs / outputs;
simple and rapid VFD installation by the compact design, also for even more performance;
already integrated line reactor in the VFD to reduce the need for cabling and wiring, an optional line filter can also be integrated.
In addition, the VFD also enables a much wider scope of applications to be covered by a range of supplementary functions and options:
IP 55 enclosure for operation in arduous environments;

two different applications can be served by switching over parameter sets;
fibre optic technology for fast system communications with several variable frequency drives;
the VFD integrated speed and torque monitoring.
The VFD suitable for different operating environment
Direct Torque Control
enables the VFD to implement a wide variety of highly dynamic operating sequences. The entire output capacity of the VFD can be utilized. The VFD control system ensures that process sequences remain smooth, precise and reliable, even under arduous operating conditions.
You can choose:
Variable speed at
constant torque
...
The is the right solution if the application requires variable travel, lifting, turning and slewing motions, regardless of the given load.
The
VFD
exact torque control provides a constant torque, even at low frequencies. This means that VFDs always start smoothly and offer unmatched precision controlled braking. This solution not only offers reliable protection for the loads to be transported, but also ensures the safety of the installation.
... or variable torque at constant speed
This control variant enables a constant speed to be maintained, even if the load fluctuates widely. The torque is exactly adapted to the give load for the specific speed setting. In this way, the required performance level of an installations achieved at all times and under all operating conditions. This is decisive in the case of machinery where product quality depends on a constant speed.
In these drives applications, Gozuk VFD satisfies all requirements with the integrated speed and fast torque control. Due to its short VFD control rise time, Gozuk VFD responds very quickly to changes in load or external factors such as wind forces acting on cranes outdoors, for example.

VFD manufacturers

buy@vfds.org

tech@vfds.org