40 HP VFD, low cost variable frequency drive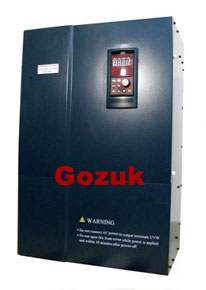 VFD Capacity
: 40 HP (30 kW)
Input: 3 phase 50/60Hz 380V AC ± 15%
Output: 3 phase 0 - input voltage
Rated current: 60 amps
VFD dimension
: 505*280*261mm
Gross weight: 25 kgs
VFD Control mode
: V/F control, vector control (
what is vector control VFD?
)
Communication: RS485/232, standard Modbus
Enclosure: IP 20
Supplier: Shenzhen Gozuk, Made in China
Sale price? View our
VFDs prices list
or
send us a RFQ
for this 40hp vfd.
Tips:
Variable Frequency Drive in irrigation water pumps
The proliferation of VFDs has been enormous due to the global low energy consumption's applications demand. I was basically put out of a job selling carbon brushes because all the
plastic extruder
companies who used a lot of DC motors converted to AC motors and VFDs to lower costs and to improve production. Fan and pump applications are still the area where the most cost savings can be achieved by variable frequency drives. I buy a 40 hp VFD used for irrigating acres of wine grapes with water lines 3km in length. By using pressure transducers transmitting wirelessly back to the
VFD
from 3km away, the pressure at the end of each line could be maintained. As sprinklers were turned off in the field, the VFD would throttle back to maintain pressure and lower energy consumption. It could then automatically increase pump speed as required.

VFD manufacturers

buy@vfds.org

tech@vfds.org