75 HP VFD for air compressor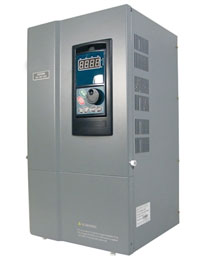 VFD Capacity
: 75 hp (55 kW)
Input: 3 phase 50 / 60 Hz, 400 V AC ± 15%
Rated current: 112 amps
Overload capacity: 150 % for 60 seconds
VFD dimension
: 645*370*267 mm
Gross weight: 52 kg
VFD Control mode
: vector control, V/F control
Analog signal: 0-10V or 4-20mA
Communication: RS485/232, standard Modbus
Enclosure: IP 20
Supplier: Shenzhen Gozuk Co Ltd, send us a RFQ for this 75 hp VFD.
Tips:
Considerations of Applying Variable Frequency Drive on Air Compressor
It is possible to install a variable speed drive on an air compressor, either screw or piston type. The range of control is maximum of probably 2:1 on Frequency. It is probably necessary to start the compressor at full frequency, particularly if it is starting with a full head of pressure to generate and it can then be adjusted to the desired output. If it is on automatic control it will require starting the manual mode and the switching to the automatic mode. If this is a large horsepower motor, say 75 HP and above, they a mechanical
variable speed drive
might be recommended due to temperature climb with the VFD.
If the equipment was purchased within the past 5-10 years, you should contact the air compressor manufacturers. They will have experience in application of their units to VFD drives and all of the cautions/problems that may occur.
If you cannot contact the manufacturer, check with air compressor vendors who supply similar compressors. Particularly if you may need to purchase additional equipment in the near future, vendors are usually very happy to assist.

VFD manufacturers

buy@vfds.org

tech@vfds.org