10HP VFD, buy from China manufacturer directly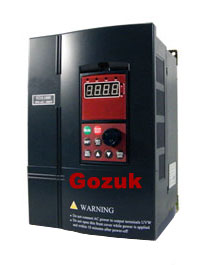 VFD Capacity
: 10 HP (7.5 kW)
Input: 3 phase 380V - 440V, 50Hz/60Hz ± 10 %
Output: 0 - rated input voltage, 0 - 400Hz
VFD Dimension
: 290 * 200 * 187 mm
Weight: 6.5 kg
VFD Control mode
: V/F control, vector control
Overload capacity: 150% for 1 minute, 200% for 0.5 second
VFD Communication
: RS485/232 (optional, save 10 $ if you don't need it)
Enclosure: IP 20
Made in China, manufacturing by Shenzhen Gozuk,
get a price
for this 10 hp VFD now.
Tips
: What's the problems of a synchronous motor connecting to AC power supply directly?
A PM AC motor is a synchronous motor. Nowadays this kind of motor is used as a servomotor controlled by a
variable frequency drive
(VFD).
There are applications with a synchronous motors connected directly to an AC power supply. That has two problems. First to you need to put the synchronous motor near synchronous speed and synchronize back emf with net voltage after that you can plug the motor to the net. If not, the net speed is so large that the motor only can vibrate. At the moment the motor begins to rotate the rotating field is so quick has not at the front of the magnet, is at his rear motor inverts.....
The other problem is that the back emf of the motor has to be near to the net voltage at synchronous speed. If not this voltage difference has to be compensated with voltage in the motor impedance. That is the cause that synchronous motors has the rotor dominated and can change his ke (V/rpm) adjusting the net voltage.

VFD manufacturers

buy@vfds.org

tech@vfds.org