Variable Frequency Drive Digital Inputs
Digital inputs
are used to interface the VFD with devices such as push buttons, selector switches, relay contacts & PLC digital output modules. Each digital input may have a preset function assigned to it, such as start/stop, forward/reverse, external fault, & preset speed selections. For example, if a motor has to operate at three different speeds, a relay or switch contact could be made to close & send signals to separate digital inputs points that would change the motor speed to the preset value.
Following diagram shows typical input digital connections for two-wire or three-wire control with stop, forward, reverse, & jogging functions. Because
variable frequency drives
are electronic devices, they can have only one phase rotation output at a time. Therefore, interlocking, as required on electromechanical devices, is not required for variable frequency drive for ward/reverse operations. Inputs can also be programmed for two- or three-wire control to accommodate either maintained or momentary start methods. Note that the control logic is determined & executed by the program within the VFD & not by the hard-wiring arrangement of the input control devices.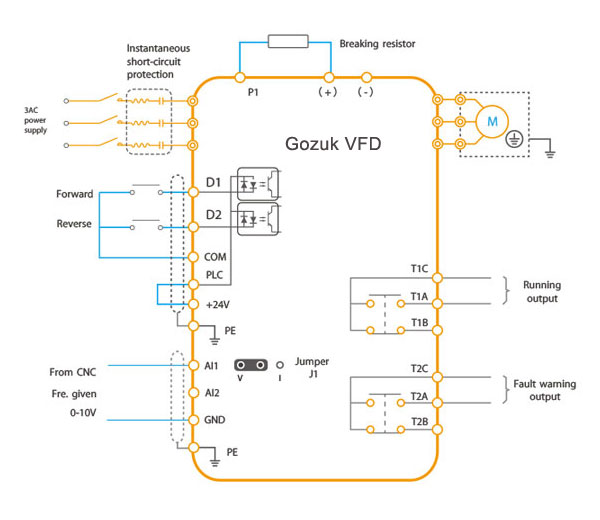 Digital/relay outputs
. Digital/relay outputs are two position signals (on/off) sent by the variable frequency drive to devices such as pilot lights, alarms, auxiliary relays, solenoids, & PLC digital input modules. Digital outputs have a volt age potential (e.g., 24 V DC) coming from them. Relay outputs, which are known as "dry" contacts, switch some thing external, closing or opening another potential. Relay outputs are normally rated for both AC & DC voltages.
Analog inputs
. Analog inputs are used to interface the VFD with an external
0-10 V DC or 4-20 mA signal
, For example, a speed setpoint from an external speed control potentiometer.
Analog outputs
. Analog outputs are modulating signals sent by the variable frequency drive to a device such as a meter that could display speed or current.

VFD manufacturers

buy@vfds.org

tech@vfds.org