Increased energy efficiency can also be realized by using regenerative variable frequency drives that pump the braking energy back into the supply network rather than dissipating this energy in braking resistors or in mechanical brake systems.
Variable pitch drive – a belt and pulley drive where the pitch diameter of one or both pulleys is adjustable, giving a multi ratio and hence a variable output speed.
Traction drive – the diameter of the contact path of two mating metal rollers is adjustable, giving a multi ratio hence a variable output speed.
Hydraulic hydrostatic drive - a positive displacement hydraulic pump and motor where the volumetric fluid output of the pump is varied through valves or by varying the displacement.
Hydraulic hydrodynamic drive or fluid coupling – two impellors coupled together with hydraulic fluid. By varying the volume of the fluid the degree of coupling from primary to output can be varied and therefore variable speed obtained.
Hydraulic hydro viscous drive – a number of discs on the input shaft pressed against a corresponding number of discs on the output shaft. There is a film of oil between the discs. By varying the pressure squeezing the discs together the torque transfer can be varied hence realizing variable speed operation.
The most common mechanical VFD used within industry is the fluid coupling.


Manufacturers that recognize the importance of preventive maintenance can provide a valuable role in setting up a comprehensive preventive maintenance schedule that spans the life of the basic VFD. During the operational life of the VFD, the manufacturers can advise on basic measures to maintain the high levels of reliability of which VFDs are capable. These include keeping the VFD clean, cool, dry and the connections tight. Their importance and impact cannot be over emphasized.
Use "standard", low-cost, induction motors. Explosion-proof motors and other special construction is widely available. Brushes, commu­tators, or special "permanent-magnet' rotors are not required.
High-input displacement power factor (about 95%), for lower-cost power.
Some inherent ability to "hold back" loads through regeneration with­out extra hardware.
High-speed capability (6,000 RPM is easily attainable).
Add to those the following advantages not achievable with standard VVVF VFDs:
Closed-loop speed regulation to 0.01%.
High-dynamic response of greater than 50 radians/second.
Smooth low-speed operation, even under changing loads.
High breakaway torque (150% or even 200% is common).
Linear torque control for positioning or tension.
These advantages make vector VFDs the best answer for many applications.
VFD circuit
uses three phase power source voltage, so a three phase full-wave bridge rectifier is used. Keep in mind that it's encapsulated so one doesn't see each of the diodes. Rather one would find the terminals for the three input terminals and the two dc output terminals.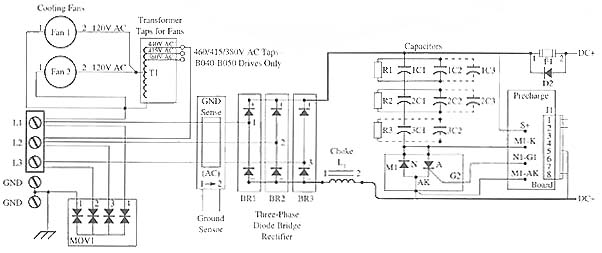 VFD Control Features
Open loop vector control variable frequency drive

Speed or torque control variable frequency drive

Speed reference input: 0-10V, 0-20mA, 4-20mA, (-10 to +10V SM-I/O Lite option)
4 digital inputs- World (enable, run forward, run reverse, local/remote)- USA (not stop, run, jog, local/remote)
VFD switching frequency: 3 (default) – 6 – 12– 18 kHz
VFD Output frequency 0 to 1500Hz
VFD Accelerate and Decelerate ramps (linear and S type)
Positive logic control
Serial communication - Modbus RTU RS485 via RJ45 connector- Baud rate 4800, 9600, 19200or 38400 bits per second
DC injection braking as standard in the VFD

Dynamic braking transistor as standard in the VFD

Dynamic motor flux V/Hz for energy saving
Quadratic motor flux V/Hz for fan and pump optimization
Each of these types of loads has unique characteristics which impact the amount of energy savings and process control that can be expected with a variable frequency drive. Not all applications will benefit economically from the addition of a VFD, but all would enjoy better process control. The question is, at what cost is it feasible to upgrade? The examples are designed to help you conquer the evaluative process of adding a variable frequency drive.

VFD manufacturers

buy@vfds.org

tech@vfds.org